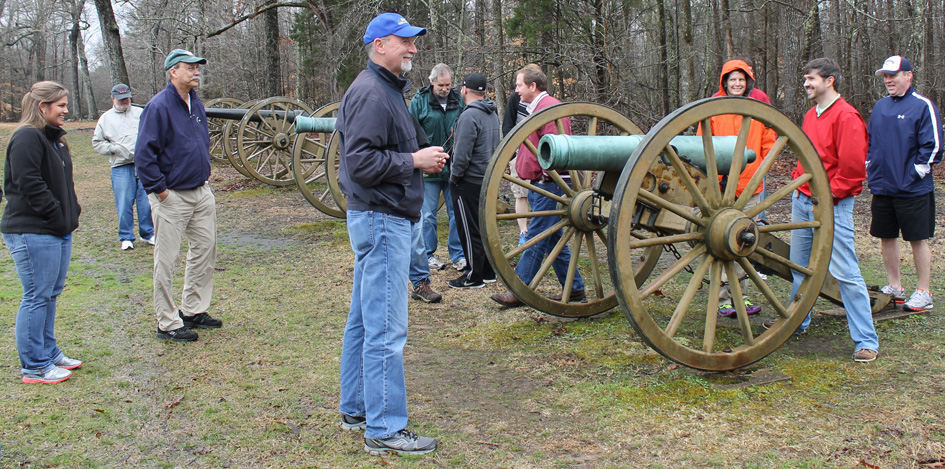 2016-2017 With Shiloh Civil War Tours
We are pleased to announce the association of Mr. Thomas Rambeau with Shiloh Civil War Tours. Tom Rambeau is a native of the Gettysburg, Pennsylvania area who has been a lifelong student of the American Civil War. We believe Tom is a wonderful addition to our group. He has made a meticulous study of Shiloh and recently completed extensive research on artillery employed in that engagement. In addition Tom resides in Corinth, Mississippi; he is able to lead individuals and groups on tours of the Battle and Siege of Corinth. Tom has a passion for the history of the Civil War in this region, and people taking tours under his guidance are certain to notice it.
Looking forward to a great year,
David Stewart
We welcome individual,
small group, and family tours!
2016-2017 Schedule of Events:
Chickamauga and
Chattanooga, Tennessee

September 23, 2016
Fredericksburg and
Chancellorsville, Virginia

November 9, 2016
Corinth, Mississippi
Siege and Battle

October 5-6, 2016
Shiloh Battlefield Tours

March 24-25, 2017
Shiloh Battlefield Tours
April 7-8, 2017
Gettysburg, Pennsylvania
(including Antietam)
June 15-18, 2017
Bicycle Tours of Shiloh: ask about arranging a bicycle tour for a close-up view of the action!
Battlefield App: A free battlefield app of Shiloh is now available at www.civilwar.org. The app is quite good and will certainly enhance the quality of a visit to Shiloh. However, it will not substitute for the benefits of touring with a seasoned battlefield guide.
Tour rates are $30.00 per hour for individuals and small parties; group rates available upon request.
The tour will be taken in your personal vehicle unless other arrangements are made in advance.

Links
Shiloh Eagles, Dedicated to the Bald Eagles of Shiloh National Military Park